Chandigarh: Haryana Chief Minister, Sh. Manohar Lal stated that the tourism sector in Haryana is accelerating at a fast pace. Tourism is an industry that attracts people from all over the world. Wherever tourism has flourished, there has been an evident development of the region. It also enhances employment opportunities for the locals. In Haryana, the influx of tourists is growing, and today, the inauguration of water & adventure sports activities at Hathni Kund Barrage has taken place.
He mentioned that a park is being developed at Hathni Kund Barrage, which will be named after India's former Prime Minister, Sh. Atal Bihari Vajpayee. He also mentioned the plan to create a wildlife safari project covering approximately 10 thousand acres in the Gurugram and Nuh districts. The project is expected to commence soon.
He emphasized that the tourism sector holds great potential. Adventure sports are becoming increasingly popular among today's youth. In terms of tourism, there are numerous possibilities down the hill from Kalesar to Kalka, such as through foot trekking, cycle trekking and motor cycle etc., one can visit various places like Adi Badri, Lohgarh, Trilokpur Devi Temple and other such recreational places.
The Chief Minister highlighted the significance of the Hathini Kund project. Initially, Taje Wala Head was relatively smaller. Subsequently, Hathini Kund Barrage was constructed. However, due to the scarcity of water, a 50-meter high dam will be built at Kalesar. This dam will directly benefit people from Haryana, Himachal Pradesh, Uttarakhand, and Uttar Pradesh. This project serves as a convergence point for four states. It opens up opportunities for tourism and can potentially address the water needs of all four states. Additionally, it can also generate electricity. Rajasthan and Delhi are also expected to benefit from this project, added CM.
Tourism Minister, Sh. Kanwar Pal welcomed the present guests and praised Hathini Kund area for its natural beauty, which attracts tourists and holds immense potential to grow further. He mentioned that crores of rupees have been spent on this park under the guidance of Chief Minister, Sh. Manohar Lal, and it has been named after former Prime Minister Atal Ji.
After the Hathini Kund programme, the Chief Minister interacted with the people present on the occassion. Responding to the demand of the people, he announced the construction of a wide road from Patiala, Pehowa Kurukshetra, Ladwa to Yamunanagar. Discussions are underway with the National Highway Authority for this, and if the authority does not build the road within six months, the state government will undertake the project in the following six months.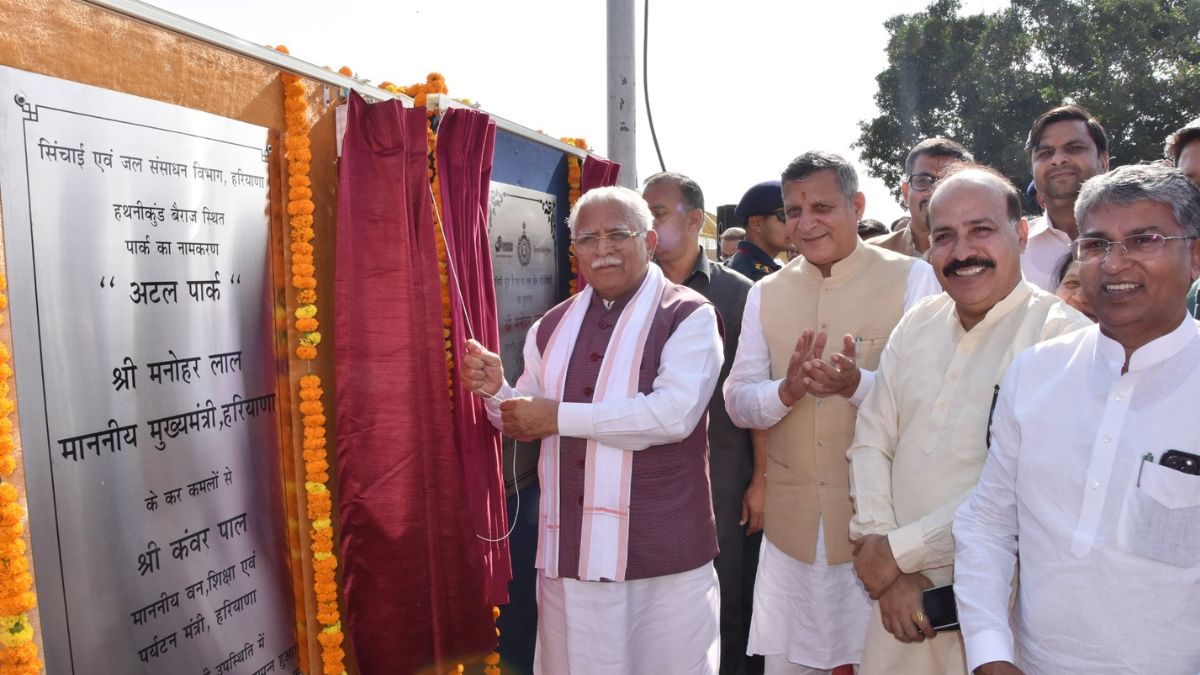 Present at the occasion were Principal Secretary of the Tourism Department, Sh. MD Sinha, Deputy Commissioner of Ambala district, Smt. Renu Phulia, MD of the District Tourism Department, Sh. Neeraj Kumar, besides other dignitaries were present.