New Delhi: Ever since winning their 6th ODI World Cup title by defeating hosts India in the finals of CWC 2023, a section of Indian fans have started making personal attacks on the family members of several Australian cricketers.
Last Sunday, the mighty Aussies broke millions of Indian hearts as they registered a thumping triumph against India and broke their World Cup dream for the third time in the last 20 years.
While the unbeaten team India marched into the finals as clear favorites for clinching the coveted trophy, Australia handed them over their first defeat in the multinational tournament with 6 wickets to spare and lifted the coveted trophy.
Fans target Travis Head's Wife and daughter
Frustrated after receiving a crushing defeat from Australia in the CWC finals, thousands of Indian fans took to their social media handles and gave threats to the Australian cricketers and their families.
While some hurled abuses at Travis Head, the player of the final, for stealing the match from India, others targeted the Aussie cricketer's wife and his one-year-old daughter and gave them death and rape threats.
Absolutely vile and shocking. Indian cricket fans giving r@pe threats to the wife and daughter of Travis Head after the WC win.

His daughter is only 1 year old 🥲 pic.twitter.com/livmWjlioH

— Singh (@APSvasii) November 19, 2023
Glenn Maxwell's 'Indian' wife hits back at trolls
Amidst this, Australian all-rounder Glenn Maxwell's wife Vini Raman, who hails from South India herself, also received hate for celebrating her husband's victory in the CWC 2023 final.
However, instead of ignoring the trolls, she took to her Instagram and replied back to all the keyboard worries making disgusting personal attacks on her and the families of the 6 time World Cup winners.
She suggested the frustrated fans take a chill pill and wrote "Cue all the hateful vile DMs. Stay classy. Can't believe this needs to be said BUT you can be Indian and also support the country of your birth where you have been raised and more importantly the team your husband + father of your play in #nobrainer."
"Take a chill pill and direct the outrage towards more important world issues", Vini added further.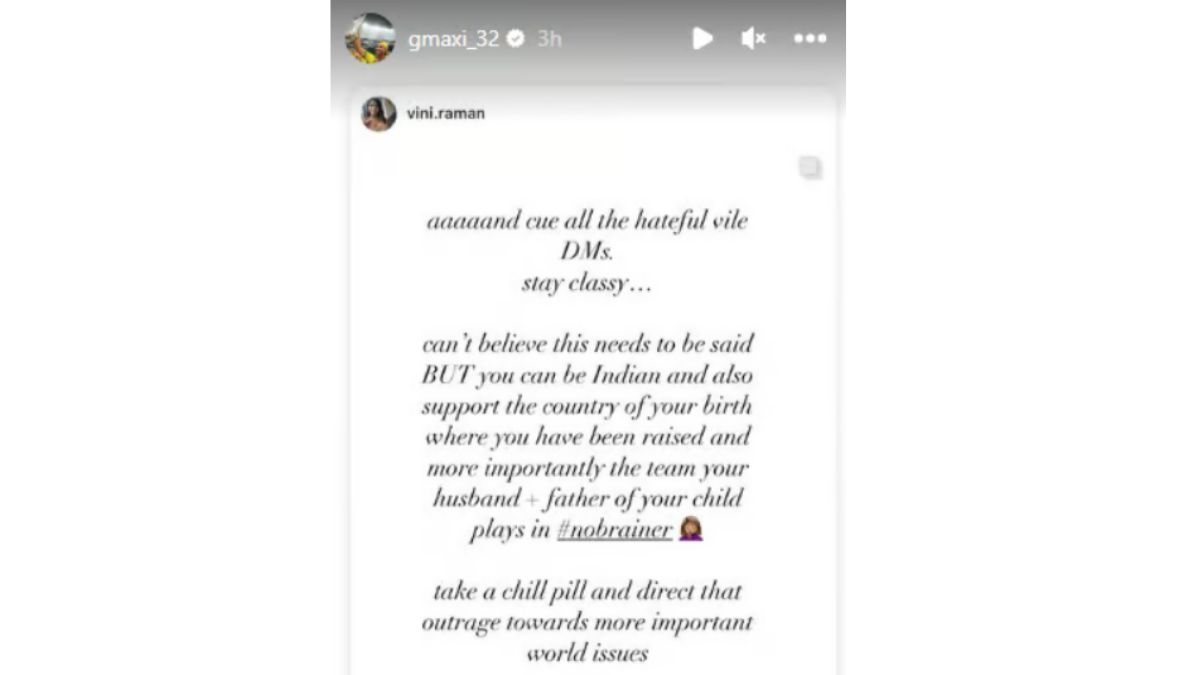 Australia continues to dominate ICC events
The 2023 ODI World Cup Victory added one more Golden feather to the caps of the Australian team and made them the only team to win 6 ICC ODI World Cup trophies in the history of cricket.
On the other side, the men in blue suffered a brutal heartbreak in the CWC 2023 finals and will now be aiming to try their luck next year in the upcoming ICC T20 World Cup which will be hosted jointly by West Indies and The United States.