New Delhi: It has been decided that Mumbai will play host to Lollapalooza India 2024. Lollapalooza India 2024 will feature a stellar roster and will take place on January 27th and 28th at the illustrious Mahalaxmi Race Course as it has done in previous years. Lollapalooza India announced the full roster for the upcoming second edition of the music event on November 17th.
Sting, the Jonas Brothers, Halsey, and OneRepublic will be the headlining acts at the legendary music festival that features a variety of genres. The entire lineup is now available. The second line-up is the K-pop band The Rose, who are recognised for their rock music, as well as their multilingual K-pop American combination of pop, R&B, and the soulful vocals of Eric Nam.
In 2017, The Rose released their first song, titled "Sorry," which marked the beginning of their career. In October of this year, they issued their most recent album, titled DUAL, which debuted in numerous top positions on Billboard. Eric Nam has been to India before; however, he has not yet performed. In addition to that, he worked together with Armaan Malik on the track "Echo."
The music festival's star-studded lineup includes #Halsey,#Lauv, #JonasBrothers and #Sting

— VOGUE India (@VOGUEIndia) November 17, 2023
There will also be performances by the alternative rock piano rockers Keane, the fearless pop phenomenon and singer-songwriter Lauv, Royal Blood, the cutting-edge dance music duo Jungle, the radical and hip-hop rapper JPEGMAFIA, the Italian electronic dance music artist Meduza, and the French house DJ Malaa.
Lollapalooza India 2024 will be the second edition of the multi-genre music festival in Asia, and it will feature performances by Indian legend Anoushka Shankar, India's most popular contemporary Indian folk band The Raghu Dixit Project, local favourites multilingual indie-folk alternative band When Chai Met Toast, and Israeli alternative indie electronic pop sound masters Garden City Movement.
Lollapalooza India have just announced their 2024 Lineup 🎉🎉⁠
⁠
📅 27th – 28th January, 2024⁠
📍 Mahalaxmi Race Course, Mumbai (🇮🇳 India)⁠
🎫 Phase 2 GA Ticket – ₹ 11,499 (Est. USD $138) pic.twitter.com/4IGGLalWB9

— That Festival Site – International (@TFS_Intl) November 17, 2023
Parvaaz, Jatayu, Dualist Inquiry, Komorebi, Parekh & Singh, Prabh Deep, Kamakshi Khanna, JBABE, Dewdrops, Shashwat Bulusu, Monophonik, Sublime Sound, Stalvart John, The Karan Kanchan Experience, Long Distances, and Megan Murray will be among the many star performers at Lollapalooza India 2024.
Imagine Dragons, The Strokes, Diplo, and Japanese Breakfast were just a few of the bands who performed during the first Lollapalooza India festival. At the music festival the year before, Jackson Wang delivered a stirring performance that left everyone in attendance in awe.
BookMyShow is responsible for the production and promotion of Lollapalooza, and they were also responsible for bringing the first event to India.
Some Details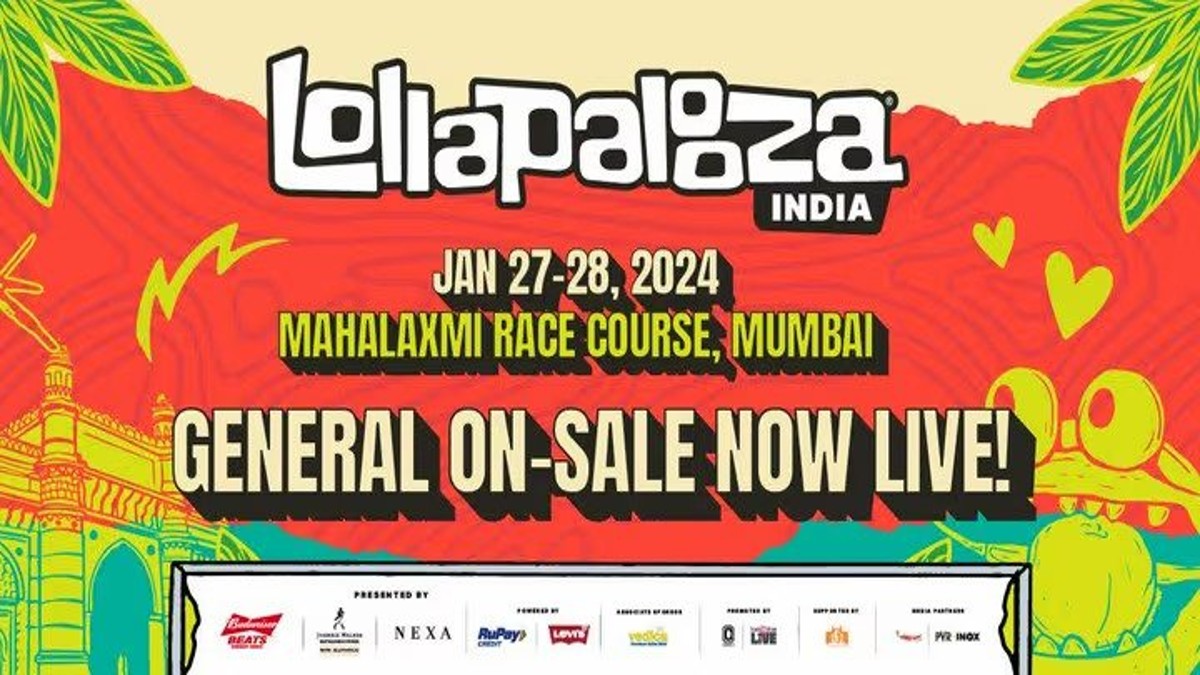 It is anticipated that Lollapalooza India 2024 will take place on January 27 and 28. The event is going to take place at the Mahalaxmi Race Course in Mumbai. Tickets for the show can be purchased via the BookMyShow website. Ticket costs will range from Rs 10,999 to 49,999 each.